KYOTO EXCURSION
October 13th (Wed)


8:00-8:20
Breakfast at SPring-8 Cafeteria
8:20
Front of Cafeteria
8:30
Dep. SPring-8
11:50-12:30
Kinkaku-ji
13:00-14:20
Kyoto Handicraft Center (Lunch & Shopping)
14:30-15:00
Heian-jingu
15:30-17:00
Kiyomizu-dera
17:30-19:00
Free Time (Supper*-on your own)
21:30
Return to SPring-8
Note:
*Supper is NOT provided.
This schedule is subject to change due to traffic conditions and other reasons.
Welcome to Kyoto The Kyoto region English sightseeing website.
Kinkaku-ji


The famed Golden Temple is one of Japan's best-known sights. The original building was constructed in 1397 as a retirement villa for Shogun Ashikaga Yoshimitsu. His son converted it into a temple. In 1955 a full reconstruction was completed that exactly followed the original design, but the gold-foil covering was extended to the lower floor.
Kyoto Handicraft Center
Buffet style lunch & Duty free shop. This is a huge cooperative that sells, demonstrates and exhibits crafts. It is the best spot in town for buying Japanese souvenirs.
Heian-jingu


This impressive shrine complex was built in 1895 to commemorate the 1100th anniversary of the founding of Kyoto. The buildings are colorful replicas, reduced to two-thirds of the size of the Kyoto Gosho (Imperial Palace) of the Heian period (794-1192).
Kiyomizu-dera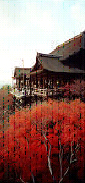 This temple was first built in 798, but the present buildings are reconstructions dating in 1633. The main hall has a huge veranda that is supported by hundreds of pillars and juts out over the hillside. Just below this hall is the waterfall, Otowa-no-taki, where visitors drink sacred waters believed to have therapeutic properties.
Free time
Tour bus Drop-off & Pick-up Point: Front of Kyoto City Hall, Oike-Street.